The children of Alingan Founation wish you a very happy Christmas!
"May this holiday season sparkle and shine, may all of your wishes and dreams come true, and may you feel this happiness all year round".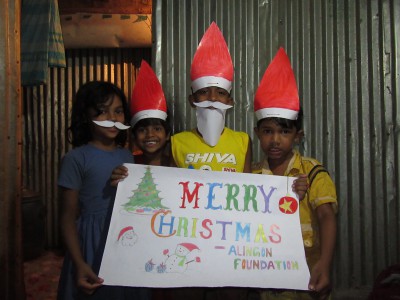 The Christmas season is a good time to start thinking about helping other people. This includes providing food, clothing and other basic needs for the children to enable them to experience the joy of the Christmas Season, giving warmth, love and hope: a time to share our good fortune with our neighbors in need across the world.
Let's make this holiday season special by helping a child's dream come true.
Any donation option will help grant the wishes of children for their essential basic needs:
Donate any amount of money which can be used to provide some food, winter clothes, shoes and other essential things. Slum children in Bangladesh are particularly vulnerable. Many are sleeping on the cold ground wearing cotton shirts and a simple cough can quickly escalate into something much more serious. Some children are suffering from various common diseases and lack proper treatment. A little help can protect them from this suffering.
Support children on a regular basis for their education. To break their ongoing cycle of poverty we have found that the only way that we can guarantee the children a better future, is through providing a solid education. We believe that through education, slum children can grow up with the knowledge and ability to break the cycle of poverty in their whole community.
(1 euro can feed 2 slum children for a day!)
You can make your money donation to the following:
Account name: Alingan Foundation
Account Nummber/ IBAN: BE61363162269017
BIC/SWIFT: BBRUBEBB
Project's account address:
Mechelsesteenweg 23/22
2018 Antwerpen
Belgium (EU)
To make your contribution via paypal or credit card, please check the donation page of the website: http://alingan.org/donation.html
For more information regarding the project and programs, please have a look in the website: www.alingan.org

Thanks for staying with us.