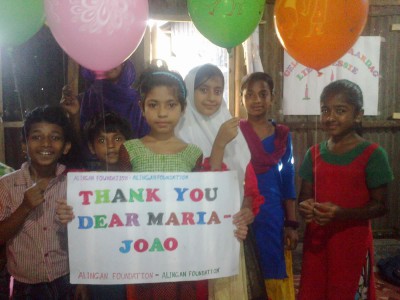 We thank Maria João from the bottom of our hearts for the contribution she made. This contribution will help us to continue our efforts for the education of slum children in Dhaka, Bangladesh. Her contribution was a surprise for us. We had informed her about the project some time ago so she kept it in mind and took this opportunity to support it.
Personally I ((Palash Roy-founder of Alingan Foundation) have known Maria João from Portugal since January 2010. During my work for slum children in Dhaka, she volunteered to work for the slum community from January to March 2010. She was pretty effective in making some changes in the slum community through different development work. She was loved and respected by the children and their parents in the community, an impression which has remained in her mind and heart and has made her willing to visit them again. She considers the community as her big family.
In one of our last communications, she mentioned:
"Please ask Asma, Amena, Runa, Kodor Banu, Mosharof, Lily, Julhas, Yasin, everyone to pray for me and be happy for me. Tell them that I did not forget my Bangladeshi family and that I wish they could all be with me on this very important day. They will be in my heart. I want very much to go back and I have not forgotten the promise I made. Maybe I will go one day to help Alingan"
We wish her a happy and peacefully married life and that she remains with us like a family.