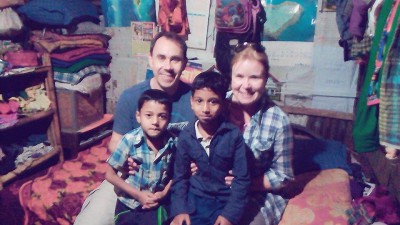 It was a great pleasure to find our foreign visitors David Ring, captain of Emirates Airlines and Sharon with the children of the project. Captain David has supported children of different projects in Bangladesh now for many years by donating items, inviting people to visit and volunteering for the children. He has also personally sponsored a child in Dhaka for several years. His kind heart for under privileged children is highly appreciated.
They donated some clothes, stationery and other necessities to the children and also visited a few families of their families. The children were very excited to be with them. They had a pleasant time and they performed some recreational activities for them.
Visiting and volunteering for the children can be a great part of support in making a difference to the quality of children's lives. The children would be blessed to find regular visitors and volunteers with them to let their knowledge and talent expand.