The children are blessed to have had Mr. Davide Majeli with them twice in the last two years. He volunteered the children of the project for their education and conducted different social activities with lots of fun and pleasure. He also provided school stationery and food to the children during his visits. It was a great chance for the children to learn about foreign culture, sharing ideas and learning new things which would encourage them to continue their education and will broaden their knowledge with intensive social and moral impact. The children are very interested and enthusiastic to learn from Mr. Majeli.

It was like a dream for the children to have a brand-new computer for their studies. Mr. Majeli and his colleagues from Italy contributed to buy the computer. Children were thrilled to have such a very useful source which would help them enormously in learning. Teachers can download all the education materials and video tutorials such as learning English, good manners, health and hygiene and so on. They will be able to present all the video tutorials to the children using the computer.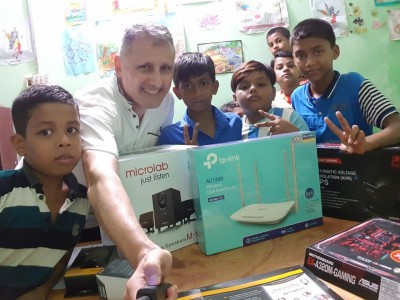 We thank to Mr. Davide Majeli from the bottom of our hearts for the contribution through his colleagues and making the dream of the children come true through his direct assistance of buying the computer in Dhaka. I am sure the children will have the chance again and again to find him with them and the possibility of his colleagues who will be able to visit them one day.